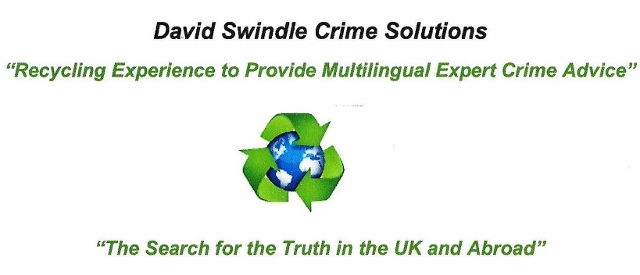 Tap into the expertise of former Senior Investigating Officer (SIO) Detective Superintendent David Swindle and his multilingual Crime Solutions team of international experts for advice, support and realistic confidential solutions to your crime-related and investigative challenges in the UK and abroad.
With over 34 years police experience in leading complex and high profile investigations, former SIO and Head of Public Protection David Swindle set up the ground-breaking Operation Anagram to examine the activities of serial killer Peter Tobin.
This much- publicised enquiry involving all UK police forces set new standards and innovative processes for tracking and tracing victims of serial killers, cold case reviews, analysis of historical investigations and retrospectively examining the lives of criminals.
With widely recognised SIO expertise in crime investigation, murder investigation, major crime investigation, cold case reviews, case preparation, independent case reviews and media commentary, David Swindle offers invaluable, direct experience of crime investigation at the highest level and provision of multilingual advice for some of the most difficult, complicated and sensitive cases.
The David Swindle Crime Solutions multilingual team can also provide assistance and guidance to families who very sadly lose a loved one in a foreign country due to homicide or suspicious death and are faced with confusing updates and legal processes in different languages.
On 26th August 2021, David established Victims Abroad https://victimsabroad.com/ to help support victims in other countries with communication problems.
David Swindle Crime Solutions offers:
international investigative capability and expert crime advice
proactive support and advice for families of killed abroad victims
former Her Majesty's Coroner expert advice
independent forensic expert advice
historical case analysis and genealogical research expertise
multilingual open source research and investigations
media and social networking appeal campaigns advice
experts fluent in English, German, French, Romanian, Spanish, Catalan
knowledge of local cultures and processes in other countries
Spanish mediation and business processes expert advice
Established in June 2011, this is an unparalleled resource which can provide the highest quality reputable confidential strategic, investigatory, review and victim-focused service, no matter how large or small or complex or challenging your issue.
The team's dedicated, tenacious and no-stone-left-unturned approach is epitomised by David Swindle Crime Solutions strapline:
The Search for the Truth
Translating this website into Spanish, French and German
You can read this website in Spanish, French and German by clicking on the flag icons at the bottom of the page. This will open a new browser tab/window so that you can return to the English website at any time.
Please note:
These translations are provided by Google Translate and as such, may be subject to some linguistic inaccuracies.
Any content that is published on site or any information provided to the appeal is translated by native language speakers.
En este episodio grabado en octubre de 2022, Eva María Navarro y Lorena Soler Bernabeu hablan sobre la muerte de Kirsty Maxwell en Benidorm, en abril de 2017.  Los puntos clave son:Las circunstancias conocidas sobre la muerte de KirstyLos testigos que todavía no han sido localizadosSaber si es tarde o no, para lograr respuestasAlgunos errores de la investigación inicialUn llamamiento para obtener informaciónPara más información, puede visitar la campaña de Kirsty Maxwell en el sitio https://twitter.com/kirstydeathlhelp.Para cuestiones relacionadas con este podcast, investigación u oportunidades de colaboración, por favor contacte kay@kay-page.com o david@davidswindle.com.** Toda la musica está libre de derechos y ha sido tomada de Epidemic Sound Library.